Are you carrying heavy burdens, torn up inside, exhausted and numb, all at the same time? Is there a situation you have prayed over thousands of times and nothing seems to happen? If so, rest your mind on the promise of Jesus in Matthew 11:28, 'come to me, all you who are weary and burdened, and I will give you rest'. The authour of this timely devotional Ellen Vaughn does exactly this, she rested and welcomed the invitation of Jesus. She describes her experience in these words when she heeded the invitation of Jesus: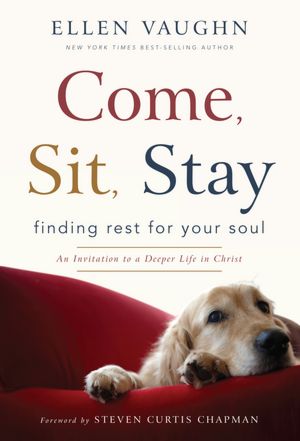 As I walked, I actually focused on Jesus' invitation. I took it apart word by word, chewing on it, meditating on it. I walked on, looking out over God's good ocean, and that old verse from Mathew 11 became real in a new way. I saw a glimpse of Jesus; I heard his invitation to come. I could almost see his arms open wide. I felt his grace. This wasn't about me being "good enough" to come; it was all about his love. A kaleidoscope of color and meaning swirled from his words. I smelled a whiff of sea breeze hope. Tears rolled down my face.
This devotional is Ellen's sweet experience of what she discovered in her experience of resting in Christ and chewing over word by word what Jesus intended in Matthew 11:28 and what great benefits and blessing we can possess when we simply believe that promise.
Come, Sit, Stay has refreshed my mind and brought me to come to Jesus without fear, to sit at his feet without worry and to stay with him without ever being forsaken. Whether you feel your soul to be amidst a terrible storm or you feel your soul to be fast asleep sailing on the clear blue ocean, this Spirit filled devotional will warm your heart to the continual surpassing joy and rest there is with Jesus. Come, Sit, Stay is an invitation to deeper life in Christ.
Ellen Vaughn does a better job in introducing her own book. Watch the video below
Purchase book here:
http://www.barnesandnoble.com/w/come-sit-stay-ellen-vaughn/1109573043
I wrote my own little devotional with the same title inspired by Ellen's book. You can read it here:
http://countedrighteousinchrist.blogspot.co.uk/2012/03/miscellanies-33-come-sit-and-stay.html
K.Oni